From the PraiseNotes team…
"Mr. Humdinger Goes Fishing" DVD

As seen on PBS, Mr. Humdinger Goes Fishing is a live-action video that shows kids what it is like to be a commercial fisherman for a day.
Parents report that after watching Mr. Humdinger Goes Fishing their kids want to do just one thing: watch it again and again. Why? Because it is not just another boring educational show … it tickles their funny bone!
The Video Librarian wrote "Cartoon music and sound effects add to the craziness, and children who co-reviewed Mr. Humdinger expressed their approval. The videography is professional done, as is the editing. By the end of the show, after a trip to a fish processing plant (where Mr. Fin gets sucked up the giant fish vacuum) and the boat is cleaned, kids should have a rough idea of the process by which fish appear at the supermarket."
And from The National Parenting Center: "If your child loves boats, the sea going, fishing kind, then they will enjoy learning more about how these boats take to the seas. In this video, which talks exclusively to the very youngest viewers, Mr. Humdinger bounces around the ship playing parts that are equally goofy and informative. This was the right mix for our young testers who were laughing and learning and gave the video … a thumbsup review."
Mr. Humdinger also was a recipient of a number of awards. For more information, visit www.MrHumdinger.com.
---
"Patrick Biddle's Great Adventure"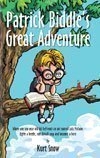 When Aunt Liddle visits ten-year-old Patrick Biddle, she unknowingly brings along a hitchhiking ant from Scotland . . . ornery, overly-dramatic, yet kind-hearted, Lutz McCoon. Before Lutz continues on to visit his relations at the ant colony in the Biddle's backyard, he and Patrick become friends.
When Lutz McCoon discovers that all is not right in the colony, he remembers his friend and returns to seek his help. Patrick is magically shrunk, and after defeating a beetle in battle (with the help of the chatty, absent-minded snail, Miss Swelter), enters an amazing underground world—a place filled with thousands of ants zigzagging scooters, bicycles, cars, and trucks across thirty lanes of the Queen's Highway; where Mr. Garble's Grocery Store is stocked with mosquito legs, fly guts, and caterpillar bellies; where the county fair includes a flyball soup tasting contest (where Patrick ends up, quite reluctantly, as one of the judges); where the Garbage Police keeps everything spotless.
After settling in with the McGroon family (yes, those McGroons of McGroon Green Aphid ice cream fame), Patrick is assigned as a scout to help defend the colony. Despite his anxieties, he slowly gains confidence as he passes each challenge: leading a party of scouts up the giant apple tree to recruit Mr. Sipple; outwitting Smilk, a spider intent on eating Patrick and his friends; negotiating much needed help from stubborn, suspicious Queen Blumpus.
His newfound skills, and the lessons he has learned, are put to a final severe test when he finally meets the colony's archenemy: Sotrick. Little does Patrick know that Sotrick is not only menacing, devious and smart, but he is also leading a secret army intent upon conquering the colony. Will Patrick pass the ultimate test? Find out what happens to Patrick and his friends in the comedy/adventure tale: "Patrick Biddle's Great Adventure."
For children 8-12 years old.
Kids love Patrick Biddle:
"Patrick Biddle's Great Adventure is one of the funniest books I have ever read. There wasn't a chapter that I read that I didn't laugh at."
"I liked "Patrick Biddle's Great Adventure" because it was hilarious. I was laughing almost the whole book. It was one of my favorite summer reads."
To read a sample chapter visit www.PatrickBiddle.com.