Favorite Hymns for Kids Book Series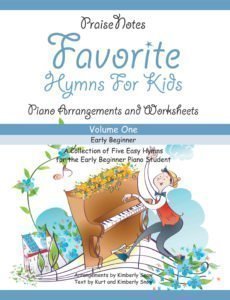 Favorite Hymns for Kids is a series of printed, bound books of Kim Snow's simple, easy hymn arrangements for piano students. Though written for children, they are appropriate for any beginner regardless of age. Combining easy arrangements, instructions on how to "read" a hymn and music theory, Favorite Hymns for Kids is a proven method to train beginner students not only how to play the hymns on the piano, but also to develop a love for hymns and learn the great truths of the Christian faith.
"As a teacher, hymn writer, and one who has played the hymns for my church for nearly 30 years, I have learned what works — what kind of arrangements beginner students can read, understand, and actually learn to play. I have tested these hymns with my students, and they love them!"
Each Favorite Hymns for Kids book includes:
Piano Arrangements
Enlarged music score—two pages per hymn
Verse one of each hymn, additional marks including introduction, refrain, playing both hands up one octave and final "Amen" ending
Measure numbers (circled) at the beginning of each music scoreline
Finger number recommendations above or below notes for both hands. Arrows above or below finger numbers alert students of changing finger positions
Student Hymn Worksheets
Questions on hymn name, tune name, hymn meter, key, and time signatures
Music practice checklist and keyboard graphic
Additional hymn verses
Rhythm Worksheets
Answer lines under music notes for the student to write and count rhythms
Other Features

Piano arrangement marks reference sheet – an example of how to use piano arrangement marks
Rhythm worksheet reference sheet – rhythm examples of how to count and write rhythms
Hymn worksheet and rhythm worksheet answer keys at the end of each book
Glossary

Time Signatures
Hymn Terms
Music Terms and Symbols
Rhythm and Note Values
Measures
Key Signatures and Scales
We offer four Favorite Hymns for Kids categories:
Favorite Hymns
Christmas Hymns
Easter Hymns
Thanksgiving Hymns
Click HERE for a complete hymn index available as individual downloads and in our books.
The difference between Just Hymns Book Series and Favorite Hymns for Kids Book Series
Just Hymns Book Series
Favorite Hymns for Kids Book Series

10 Piano Arrangements
Piano Arrangement Marks Reference Sheet
Rhythm Worksheet Marks Reference Sheet
Glossary

5 Piano Arrangements
Piano Arrangement Marks Reference Sheet
Rhythm Worksheet Marks Reference Sheet
Rhythm Worksheet Reference Sheet
5 Student Hymn Worksheets
5 Student Rhythm Worksheet
Worksheet Answer Key
Glossary
All
Christmas
Easter
Favorite Hymns
Thanksgiving
load more
hold SHIFT key to load all
load all